WORLD YOGA DAY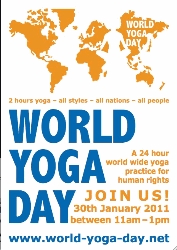 Dátum konania:
24.2.2013
Čas a miesto
11:00- 13:00
Hodina: Ashtanga full primary
Inštruktor: Jiří Alexa
FIAN International
Fight hunger with human rights!
FIAN International is the first international human rights organisation to advocate for the realisation of the right to adequate food, as laid down in the Universal Declaration of Human Rights.  FIAN envisions a world free from hunger, in which every person fully enjoys human rights in dignity, particularly the right to adequate food.
FIAN exposes and addresses violations of people's right to adequate food worldwide to ensure that people can feed themselves, their families and communities in a sustainable way. We support people whose right to food has been violated by:
Exerting public pressure to hold governments accountable for violations of the right to adequate food, so they respond to the demands of the affected people;
Raising awareness on the right to adequate food; and
Advocating, within the United Nations system and other legal regimes, for effective mechanisms to ensure the fulfillment of the right to adequate food.
The donations from World Yoga Day 2013 will be used to support FIAN International's work for the promotion and protection of the right to adequate food, like its support of peasants in Bajo Aguan, Honduras, where more than 50 organized peasants and human rights defenders were killed during the last three years in a violent land conflict; small farmers in Mubende, Uganda, who were evicted to make way for a German company's coffee plantation; and indigenous people in the village of Kusum Tola, India whose survival is threatened by open cast coal mining, destroying agricultural lands, forests and water sources; among others.
Founded in 1986, FIAN has international secretariats in Germany and Switzerland and consists of national sections present in Africa, Asia, Latin America and Europe, with individual members in over 50 countries.